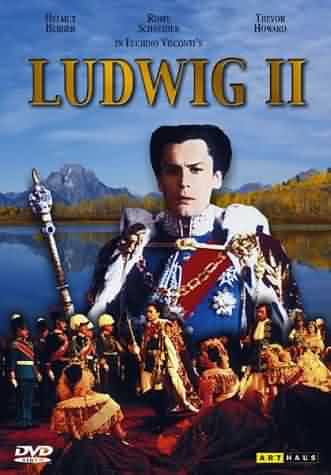 Ludwig Otto Frederik Wilhelm von Wittelsbach fue coronado rey de Baviera en 1864 y su reinado, que duró poco más de veinte años, se caracterizó por la extravagancia.
Profundo admirador de Richard Wagner - del que se convirtió pronto en mecenas -, de las leyendas europeas tradicionales, con especial predilección del mito de Tristán e Isolda, y del preciosismo en la arquitectura, sus gustos llevaron pronto al disgusto general de pueblo y corte que catalogaron de exceso y derroche este intento por elevar el arte a su máxima expresión.
Estas caras inclinaciones se unieron a otras de carácter más personal para jugar en su contra. Ludwig no se casó jamás y su único compromiso con la duquesa Sophie Charlotte Augustine, hermana menor de su querida prima la emperatriz Elisabeth de Austria, no duró mucho. A todo ello se unió una clara predilección por los hombres, que incomodaba a los sectores más conservadores de la realeza. De echo, sus detractores firmaron en 1886 un informe médico recomendando el aislamiento terapéutico.
Las continuas conpiraciones terminaron en deposición y a estas las siguió finalmente una misteriosa muerte cuyas circunstancias no han sido concluídas. Oficialmente, Ludwig II de Baviera se suicidó el 13 de Junio de 1886, a la edad de 40 años, en el lago Starnberg.
Su fascinante vida fue maravillosamente recreada en el año 1972 por Visconti en la película
Ludwig II.
Con Helmut Berger como Ludwig y
Rommy Schneider en el papel de Elisabeth.
Una oda a la belleza.
Para ver el perfil de la película en IMBD, por favor, pulsa sobre el enlace.
Ludwig II en IMBD
Frederik Wilhelm Ludwig Otto von Wittelsbach was crowned king of Bavaria in 1864 and his reign, which lasted just over twenty years, was marked by extravagance.
Deep admirer of Richard Wagner - the king soon became patrons -; from traditional European legends, with special predilection of the myth of Tristan and Isolde, and the beauty in architecture; his tastes soon led to a general distaste from people and Royal Court, who cataloged as wasteful excess this attempt to raise the art to its highest expression.
These expensive inclinations joined more personal ones against him. Ludwig never was married and the engagment with Duquess Sophie Charlotte Augustine, who was the younger sister of his beloved cousin Empress Elisabeth of Austria, did not last long.
Besides, he showed a clear preference for men. This was not accepted by the most conservative sectors of royalty. In fact, his detractors signed a medical report recommending the therapeutic isolation in 1886.
The conspirations ended with king´s deposition. Some weeks later he dead in mysterious circumstances. Officially, Ludwig II of Bavaria comitted suicide on June 13 th, aged 40, on Lake Starnberg.
His fascinating life was beautifully recreated by Visconti with the film
Ludwig II
in 1972.
In this movie you can see Helmut Berger as Ludwig and Rommy Schneider in the role of Elisabeth.
An ode to beauty.
To view the film´s profile in IMBD, please click on the link.
Ludwig II in IMBD